Common Application Essay Prompts 2013-14 School
The people behind The Common Application have just released the new essay prompts (PDF link) for college applicants who apply in the 2013-2014 admissions season. As noted in The Common Application Board of Directors' announcement, these new prompts are the result of two years of discussion about where essays fit in the overall college admissions process. This is the first big change to the essays in years (including to the word counts!), and it's clear that the Common Application Board didn't take the task of reworking these essays lightly.
Without further ado, here are the all-new Common Application essay prompts:

Common Application Essay Questions for 2013-2014
Some students have a background or story that is so central to their identity that they believe their
application would be incomplete without it. If this sounds like you, then please share your story.
Recount an incident or time when you experienced failure. How did it affect you, and what lessons
did you learn?
Reflect on a time when you challenged a belief or idea. What prompted you to act? Would you
make the same decision again?
Describe a place or environment where you are perfectly content. What do you do or experience
there, and why is it meaningful to you?
Discuss an accomplishment or event, formal or informal, that marked your transition from
childhood to adulthood within your culture, community, or family.
Which Essay Prompt Should You Choose?
To paraphrase the advice given in the announcement, you should choose the essay prompt that best allows you to tell the application readers something about you that they won't get from your high transcripts and test scores. Note that these are all "touchy-feely" topics, not questions about your SAT scores or where you placed in the Math Olympics.
This type of reflection is often hard for young people to do well (the hardest topic to write about is usually you!), but just know that college admissions officers aren't perfect, they know you're not perfect, and you're frankly more interesting when you show something other than how perfect you are. It's okay to reveal a weakness or a fear, or to share something that seems silly, as long as it helps admissions officers feel like they got to know you better and it makes it easier for them to imagine you walking around their campus a year or two from now. Being real is better than simply being impressive.
Common Application Word Limits
You must submit only one essay, and it must be no more than 650 words. This is big news in its own right: The word limit was just 500 words last year! Trust us: Those extra 150 words can make all the difference in the world when you're trying to whittle down your story. You don't need to use all 650 words… As The Common Application folks say, "650 words is your limit, not your goal." If you can tell your story in an impactful way in just 400 words, then great. Some of our all-time favorite admissions essays are also some of the shortest we have seen.
Note that there is actually also a minimum word limit: 250 words. The system won't accept anything shorter than that, although we doubt many college applicants will end up with first drafts shorter than 250 words.
Update: Check out our most recent article including three tips you should follow to write a standout Common Application essay!
Plan on applying to college soon? Veritas Prep offers college admissions consulting to help you find the schools that best fit you, improve your applications, and land a significant financial aid package. Also, be sure to find us on Facebook and Google Plus, and follow us on Twitter!
By Scott Shrum
College Admissions
Update: Read the latest tips for the 2017-18 Common App.
Late on July 31st, the 2013-14 Common Application went live, enabling thousands of eager students to get a head start on completing their college applications. And while the newly touted design is supposed to provide a more intuitive user-friendly experience, many students are running into unexpected and understandably frustrating difficulties. Common Application officials assure us that they are hard at work trying to fix a host of glitches and errors, especially those revolving around college specific supplements. In the meantime, however, we've put together ten tips and suggestions to help you successfully navigate and make the most of the new Common Application.
Our first five tips are listed below; stay tuned for the remaining five later this week. Have a question about strategies around the new Common Application? Post it below, and one of our College Coach admissions experts will answer it!
1. Test scores: to post or not to post?
Earlier this fall, when the Common Application asked students to list all standardized test scores, we recommended that students leave the self-reporting testing section of the application blank. Now that the Common Application has adjusted their language, we feel it is in the best interest of students to complete this page. For students who answer, "Yes," to the prompt, "Do you wish to self-report standardized test scores," the Common Application now asks, "Indicate all tests you wish to report." This means that students who have taken both the SAT and ACT have a clear conscious when reporting one test over the other. This change in the Common Application actually makes it easier for students to personalize the "Testing" page of their application. When applying to colleges that accept Score Choice, students can list their best score results. Then, when applying to schools that require all SAT and ACT scores be submitted (such as Carnegie Mellon, Georgetown, and Stanford), students can edit the "Testing" page to include this information.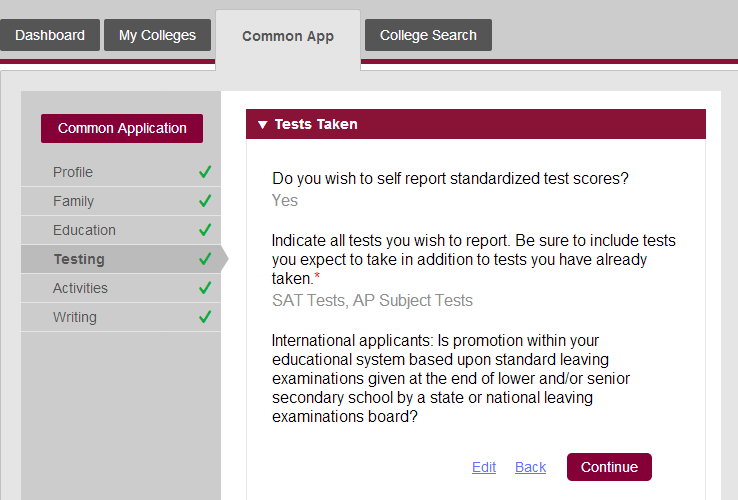 2. Résumé tips
Participated in…led…managed…contributed to.  When completing the "Activities" portion of the application, it's always best to use a variety of "action verbs" to describe your extra-curricular involvement. On the new Common Application, applicants no longer have the benefit of seeing all of their activities on the same page, making it difficult to know if your descriptions sound a bit monotonous. Our suggestion? Draft your activity details in a Word document, and then cut and paste them into the Common Application. This way you can ensure that you're using a range of colorful verbs. Don't forget that you have 50 characters to list your position/leadership and 150 characters to describe your details, honors, and accomplishments.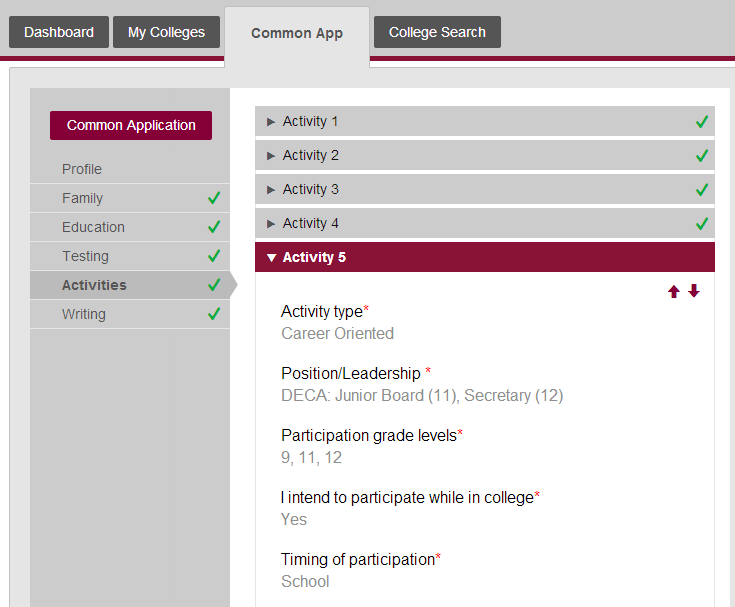 3. Formatting your essay
Gone are days of uploading your personal statement to the body of the Common Application. Now students are simply required to cut and paste their essay into a text box. There are two very important features you should know about this text box. The first is that it will not allow you to enter more than 650 words or fewer than 250 words. This word limit is new for the Common Application.  So, too, is the block formatting of paragraphs. New paragraphs will no longer appear indented. Rather, they show up as isolated blocks of text, with one empty line between each paragraph. The new formatting won't bother colleges, so there's no need to fret that your once indented paragraphs are now showing up a little differently in the print preview.
If you are having difficulty formatting your essay, and are experiencing odd word counts or no paragraph breaks when viewing the print preview of your application, try cutting and pasting your essay from MS Word (or your word processor of choice) into Notepad (for Windows users) or TextEdit (for Mac users). Then cut and paste your essay again into the "Personal Essay" text box. Notepad and TextEdit will strip your essay of all formatting and make most formatting issues disappear.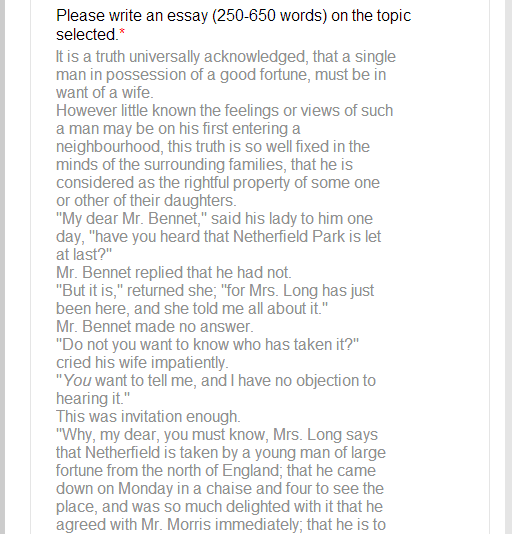 Which leads us to:
4. Where is the print preview button?
Alas, it's gone! I do hope they bring it back, but for now, there's only one way to see a print preview of your application. And you have to jump through three hoops to get there. First, you need to complete every required field of the Common Application itself. This means you see six green check marks when you're on the "Common App" tab. Second, any school-specific questions or essays need to be completed. When you're looking at a school on the "My Colleges" tab, do you see a green check mark next to "Questions" as well as "Writing Supplement"?  If not, go back and fill out those sections. Finally, you need to complete the FERPA Release Authorization and assign required recommenders (found on the "Assign Recommenders" link from either the "Dashboard" or "My Colleges" tab). Then, and only then, will you see the "Submit" button from the "Dashboard," or the "Start Submission" button from the "My Colleges" page. Once you're looking at the print preview – which, incidentally, looks exactly the way colleges will see it, minus the watermark – you can right click with your mouse to save the PDF to your computer.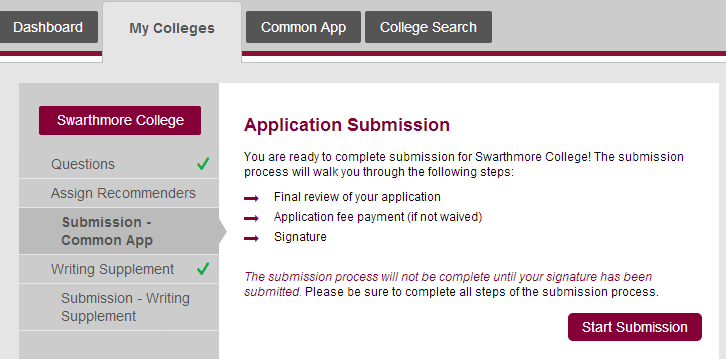 5. College requirements grid
Are you looking for an easy way to see college application deadlines and testing requirements all in a simple glance? Enter the Application Requirements Grid! This year, you physically have to log out of your Common Application account in order to find it. From the Common Application homepage, mouse over "Member Colleges" at the top of the screen; then select "Application Requirements".
UPDATE: It has recently come to our attention that the Common Application had incorrectly reported some of the statistics on their Applications Requirement grid. The University of Colorado–Boulder has an EA deadline of 11/15 (not 12/1), and Colgate's ED2 deadline is actually 1/15 (not 3/1). As we use this information for AppView, which provides deadlines and essay prompts for the top 200 schools College Coach students apply to, we've immediately updated our data. While this chart is still a helpful organization tool, it's definitely a good idea to double check school-specific information on each college's website, or on the Common Application's "My Colleges" tab.

For updated tips for the 2015-16 Common Application, take a look at our latest posts:
For all of our 2013-14 Common App tips, be sure to check out the rest of the posts in this series: