Cotswold Airport Scholarship Essay
THIS is the moment a cockpit was removed from a 747 at Cotswold Airport to begin its journey to Switzerland where it is set to begin its new life.
The Air Force Centre (AFC) in Dübendorf runs flight experiences which allows visitors to enjoy flight simulators that are housed in a variety of different aircrafts such as a Boeng 737 and fighter jets.
GJD Services, a firm based at Cotswold Airport, which disassembles aircraft, agreed to sell the cockpit of its 30-year-old Qantas jet to the centre so it can create a Boeng 747 simulator.
At the airport on Wednesday January 6, the plane's cockpit was hoisted onto a lorry in front of elated AFC officials and cameras from Schweizer Radio und Fernsehen (SRF), one of Switzerland's major broadcasting companies.
AFC project manager for the 747 project, Marc Lang  was there to witness the fascinating spectacle and he said he was delighted that the group now has the cockpit in its possession.
"The 747 was my favourite plane when I was a young boy in the 70s and 80s. We have been planning for this event for two and a half years. It was difficult to find a suitable plane in England. It is very sad it was an airplane and now it will be a wreckage. But we are going to be able to bring it to Zurich[district where Dübendorf is located]  to be able to create an incredible flight simulator and allow the public to fly."
Mr Lang explained that Switzerland's main airline, Swissair used to own a fleet of 747s but sold them in 2000.
He said that the centre wanted to create the 747 simulator in order to preserve a major part of Switzerland's aeronautical industry.
"We want to give the public to sit in a 747 and make a flight," he said.
AFC plans to create 747 simulator has put it under the media spotlight in Switzerland.
SRF reporter, Matthias Rusch had his camera rolling at the scene of the cockpit being removed as he is making a documentary about how the Air Force Centre are making its dream to create the simulator a reality.
Thomas Egger who is making a documentary on behalf of AFC also filmed the occasion.
It is expected the flight simulator which will take people on 90 minute flights to destinations around the world will be operational by 2017.
Users of the simulator will be tasked with using many of the instruments to navigate difficult aeronautical manoeuvres.
For more visit the www.airforcecenter.ch website
Applications have opened for the 2018 Cotswold Airport Aviation Scholarship. Closing date on Friday 30 March. Ten places are available for 14-18 year olds wanting to work in aerospace.
The organisers say, "This unique industry scholarship programme has changed the lives of many young people over its ten-year history, seeing scholars embarking on fantastic careers in the world of aviation, from engineering to commercial flying."
The programme was founded by Cotswold Airport owner, Ronan Harvey, an ex-RAF engineer, aviation expert and successful entrepreneur, who wanted to open up the broad and exciting world of aviation career opportunities to young people from the local area.
The scholarship programme has been significantly enhanced with a sponsorship package from Gulf Aviation. This has enabled the organisers to include additional aviation industry site visits such as Bristol International Airport, an increased number of loggable flying hours, and drone tuition with on-site UAV Academy.
In addition, the best performer among the group sleceted will be fully trained for their PPL (Private Pilot's Licence) at Cotswold Airport, funded by the scholarship programme.
Students from Gloucestershire, Wiltshire, Oxfordshire, Bristol and Berkshire can apply. Applicants must be 14 to 18 years of age on 6 August 2018.
More here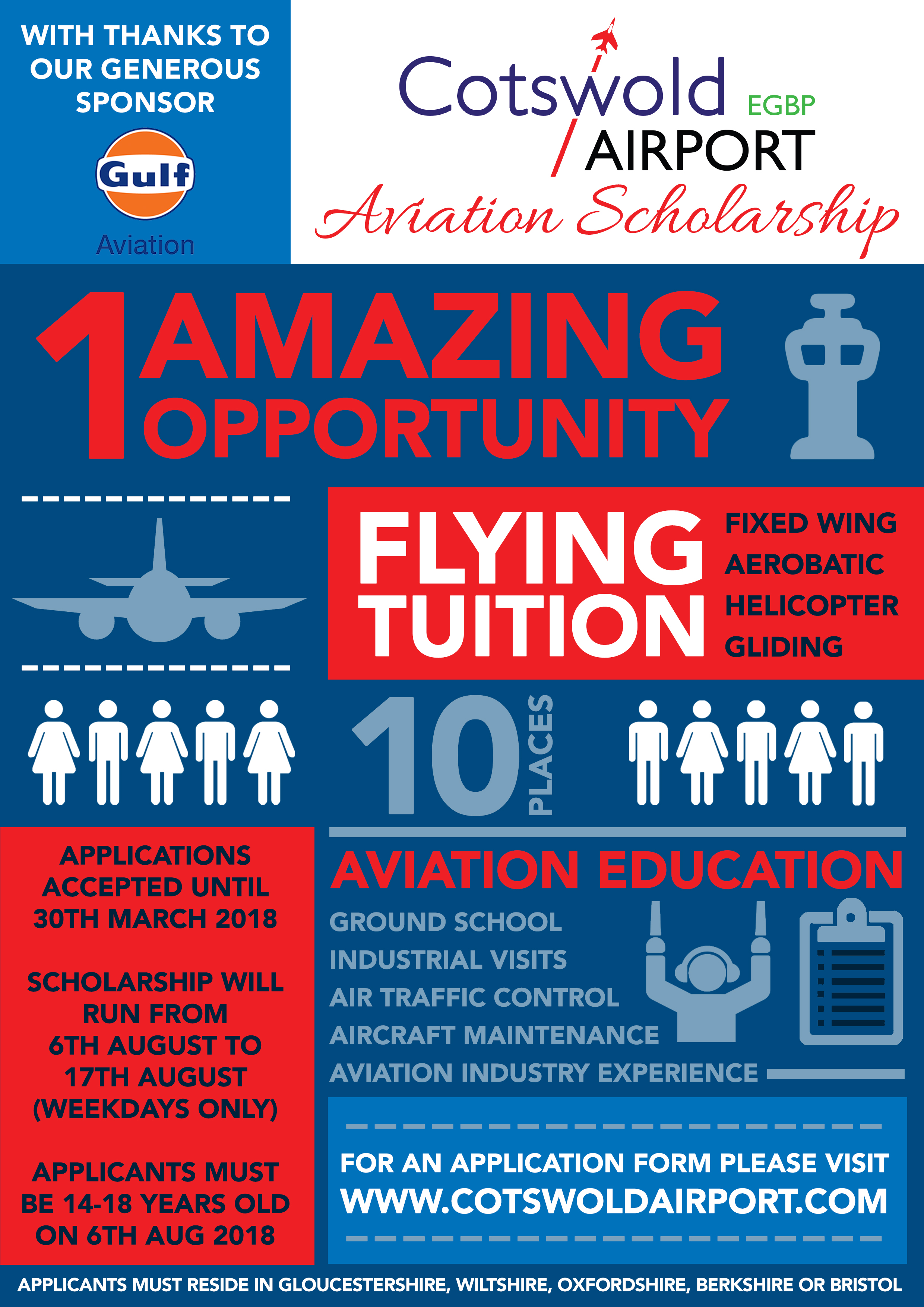 Cotswold AirportKemblescholarship