Oxford University Personal Statement Podcast App
Jane, 17, spent two days crafting her personal statement on her university application form this year.
She was applying for a place at Cambridge University to study history. It took four drafts for her to be happy enough to send it off.
She might as well have spared herself the bother.
Cambridge's director of admissions, Geoff Parks, has admitted that tutors at his university do not assign any marks to the personal statement – an essay students write on why they chose the subject they are applying for and why they are suited to it.
Parks said students now receive so much help – from their teachers or from websites that offer to write the statements – that universities cannot tell whether a student has written any of it.
He said: "With the profusion of companies and websites offering to help applicants' personal statements for a fee, no admissions tutor believes [personal statements] to be the sole work of the applicant any more.
"We certainly don't assign any marks to personal statements. I have been told by students after they have been admitted that their schools write the personal statements. References from teachers do not count for much either, Parks added. Teachers have stopped writing anything interesting or controversial now that students can demand to see what they have written.
Cambridge judges students on their grades and predicted grades instead, Parks said.
Jane, who does not want to give her full name, said: "If tutors are worried that the statements have been written by other people, they can grill students hard at the interview. They should be able to differentiate between those who wrote their personal statements with genuine passion, and those who simply got someone else to do it for them."
A spokesman for Cambridge University said: "Cambridge admissions tutors and subject interviewers do indeed give careful consideration to the personal statements of applicants for undergraduate admission.
"While the potential for coaching or third party involvement makes it difficult to attribute a 'score' to a personal statement, we do regard it as providing valuable background information.
"Cambridge probably interviews more applicants than any other UK university, and we necessarily use personal statements to inform the interview process because a purely academic record tells us nothing about the personality we are engaging with and how well they will adapt to college life."
Roderick Smith, director of admissions at Birmingham University, said his university had refused to consider "several dozen" students last year after it found out they had paid an essay mill to write their personal statements for them.
And Smith said a teacher at an independent school had told him: "Of course we help our students with their personal statements, their parents are paying £7,000 a term!"
Admissions tutors may ignore the personal statements of students applying for engineering and science subjects, Smith said.
"Where there are more places than applicants, students are likely to get an offer whatever their personal statement may or may not say," he said.
"We look at whether someone has the requisite academic achievements; then, if there are too many students for the number of places, we look at their personal statements."
Tim Westlake, director of admissions at Manchester University, said its tutors took personal statements seriously. "But we wonder whether we should choose students to interview on their qualifications, and then discuss their personal statement with them at interviews."
Oxford University's head of admissions, Mike Nicholson, said the personal statement was "a good way to distinguish the truly gifted, original and inspired". He said: "We find it a very helpful way to identify what they are doing above and beyond their A-level studies."
Ucas, the university admissions service, is considering whether students should write a separate personal statement for each of the five university courses they apply for, rather than write a generic personal statement for all of them, as they do at present.
How to Stand Out in an Oxford or Cambridge Personal Statement or Interview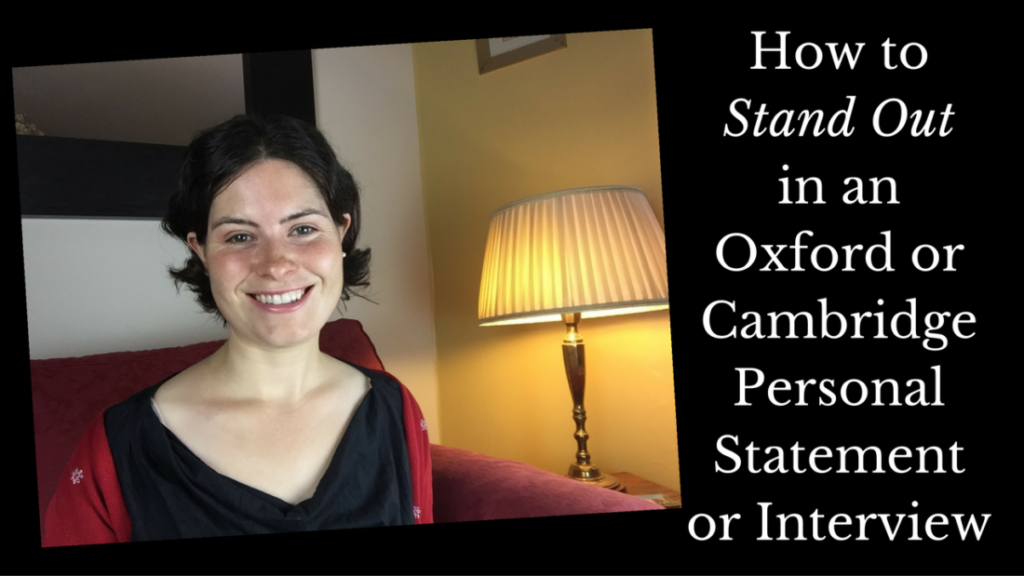 It's a question that comes up in the mind of anyone applying to the UK's premier universities: "How do I stand out from all the other candidates?"
The other day, Ami, a reader of my blog, wrote to me and asked me this exact question. Ami said:
"I'm applying to Cambridge and to be honest I don't feel I badly need to improve my grades- I gained four As at AS.

Of course I'm aware that nearly everyone has these grades when applying to Oxbridge. SO my biggest fear is what makes me different?! I'm applying to read English. Over the summer I've been immersing myself in particular genres and periods of literature to talk about in my interview. They're great evidence of my literary interests but I'm sure every other English applicant has done the same. (These are all included in my personal statement). I think I'm a good candidate because of my approach to learning; I'm VERY hardworking and ambitious, but I can also be creative and open minded, and I push myself to excel in what I do, and what I want to do is study literature at one of the top, if not the top, university in this country. How do I convince them of this?

If you had one piece of advice on how to really stand out to Cambridge, at interview and in my statement, what would it be?" 
I've answered Ami's question in the video below. I really hope that you find it useful too!
Watch the video: How to Stand Out in an Oxford or Cambridge Personal Statement or Interview
Other resources to help you stand out to Oxford or Cambridge
My e-course on writing personal statements will show you exactly how to tell you story in a captivating and compelling way so that admissions tutors can't help but notice your application. Find out more details about 3 Easy Steps to a Killer Personal Statement.
All my blog posts and resources showing you haow to apply to Oxford or Cambridge and actually get in can be found on my Get Into Oxbridge page. This includes my interview with Sam Lucy, admissions tutor at Newnham College on what she's looking for in a personal statement, and Steve Watts, admissions tutor at Homerton College and what he's looking for at interview.
If you're looking for more general advice on personal statements and how to get into other UK universities then check out my page on How to Apply to University.
If you've got more questions about applying to Oxbridge, or other UK universities, or you need more help book a free 15 minute appointment with me here. I can't wait to talk to you and help you get into your first choice of university at the first time of trying!
Do you have a burning question about applying to Oxford or Cambridge University? Leave it in the comments below and I'll be sure to answer. Good luck!
(Visited 2,078 times, 85 visits today)
Posted by Lucy Parsons
in Oxbridge , Personal development , Uncategorized