Homework Connection Icgsa
Important upcoming dates:
(None)
---
The November 29 ICGSA poll had some expected changes in 4A after a weekend of upsets. Last week's No. 6 Martinsville and No. 8 Connersville dropped to the waiting list after key losses to Center Grove and Noblesville, respectively. The upset by Center Grove propelled the Trojans to the No. 6 spot to replace Martinsville on the list. From NWI, Highland held solid at No. 5, while Valpo moved up one spot to No. 8. Munster made a first-time appearance with 4 votes in the poll.
In 3A, pretty much everything is the same as last week, although Columbia City edged out Roncalli by one vote to squeak in at the No. 10 spot. The only NWI 3A team receiving votes is Griffith with 1. Griffith could significantly raise their stock with a good showing against Highland on Friday.
In 2A, North Judson and North Newton traded the No. 2 and 3 positions, with NJ moving up one. Interestingly, North Newton continues to receive one first place vote in the poll. Rensselaer Central is new to the Top 10 at No. 9, and River Forest and Hanover Central received 3 and 2 votes, respectively.
In 1A, Rising Sun continues to receive the vote of confidence as the No. 1 team, while Northeast Dubois and Rossville enter the Top 10 as newcomers. Kouts received 8 votes in the poll.
---
The South Bend Tribune is carrying another review of the South Bend Riley-LaPorte scoring marathon last week that put 195 points on the board between both teams. In that game Riley freshman Crystal Norman set new school records, scoring 39 points (5 treys) and pulling down an amazing 25 rebounds to lead Riley to the OT win. She is averaging 23.5 points and 12.5 rebounds per game so far for Riley. For LaPorte, senior Laura Mumma scored a career high 32 points and guard Brooke Reed added a career-high 26 points (6 treys). No. 2 in 2A North Judson is also mentioned in the article, with standouts Kori Glass (18.2 ppg) and Kristie King (17 ppg) leading them to their current 4-1 record.
---
According to the Warsaw Times-Union, Tippecanoe Valley sophomore Tabitha Pratt, who had been averaging 27 ppg for her team up until the weekend, broke her leg during the championship game of TV's Thanksgiving Tournament and will be out for the next six weeks. TV definitely felt the loss of Pratt in the final game, falling to Ft. Wayne Elmhurst 82-39.
---
Rochester senior Andrea Milliser will most likely join the 1000 point scoring club on today when she scores her 5th point of the ball game at Culver. She has scored 995 points in 64 varsity contests, including a 5-11effort from three-point range at Lewis Cass last Tuesday.
---
The Crawfordsville Journal-Review is carrying a season updates after the first few weeks of games into the season. Teams covered include Fountain Central (No. 7 in 2A), Southmont, North Montgomery, Crawfordsville, Turkey Run, and Covington.
---
A number of former Indiana high school players played key roles for Indiana State University over the weekend, including sharp-shooting freshman Kourtney Mennen (Clinton Prairie) who had 6 treys in their only win on the weekend. You can read the recap of their 1-1 record in the San Diego State Tournament in the Terre Haute Tribune Star.
---
Franklin College freshman Jamie Sturgell (North Judson) only had two points in her teams last outing against Alma College over the weekend, but they were two of the most important points of the game. Teetering on a 92-89 advantage in overtime with 10 seconds to go, Sturgell hit two free-throws to put any chance for a second overtime out of reach for Alma. Leading scorer for the Grizzlies was sophomore Suzie Thompson (Speedway) who chipped in 15 points in the win, including 3 treys. You can read more about the exciting win at the Franklin women's website.
---
Xavier freshman Amy Waugh (Homestead) recently made a strong contribution to her Musketeers team in a victory which gave them the championship trophy at the Tallahassee Democrat Seminole Classic. In the 80-65 win over University of Tennessee-Chattanooga, Waugh logged 19 points, 6 assists and 6 rebounds. That performance, together with the following credentials, netted Waugh recognition as the A-10 Rookie of the Week: Averaged 10.3 ppg and 5.0 apg on the week as XU remains undefeated with a 4-0 record...only freshman starter on team, she averaged 11.0 ppg and 6.0 apg at the Tallahassee Democrat Seminole Classic...played 37 minutes in Saturday's championship game versus UT-Chattanooga netting a career-high 19 points...shot .500 (8-16) from field and .833 (10-12) from foul line on the week.
---
Some interesting developments during the week should significantly impact at least the 4A rankings in the ICGSA poll due out today. Two 4A ranked teams, No. 6 Martinsville and No. 8 Connersville, both fell over the weekend to two unranked teams. No. 1 Ben Davis played its first games of the season, and beat two ranked opponents handily, securing their top spot. In NWI, both Valparaiso and Highland solidified their Top 10 positions with spotless records so far. We will be posting the ICGSA poll as soon as we receive it today, probably early afternoon.
---

Crown Point junior Sarah Zondor defends the perimeter against Warsaw's outside threat #14 Christy Colt on Saturday. Zondor was high scorer for the winners with 20, while Colt paced Warsaw with 13.
---
A number of "barometer" games were played this weekend around the Region. NWI teams playing teams from other areas around the state gave a measure of team strength from area to area. The visiting Kokomo Kats, who had early success in their area with wins over Lafayette Jeff and McCutcheon, gave Lake Central their first loss of the season on Saturday. (Lake Central had opened their season with convincing wins over Washington and Carmel.) Crown Point traveled out to Plymouth last weekend, where they lost a very close one to the Pilgrims in OT, and then this past Saturday traveled east on U.S. 30 again, this time to Warsaw. There they took a win from the previously unbeaten Tigers, who had chalked up two high-scoring victories over teams in their area. This week, the out-of-area comparisons continue when Lake Central travels eastward to South Bend Riley on Saturday. Also, one of our sources tells us that Lebanon, featuring Lafayette Jeff transfer Suzie Hammel, was at the Kokomo-LC game on Saturday to observe the Indians. Lake Central will play at Lebanon on December 18.
---
Some notable team and individual performances over the past week:
A cross-class matchup between 2A No. 2 North Judson and 4A Chesterton gave us all an idea of the strength of that 2A power when they put it to the Trojans by nearly 30 points. Senior Kori Glass continues to put up high-scoring numbers for the Bluejays. Could they be the team to challenge last season's 2A state champ Bishop Luers?


After getting trounced by North Judson, the Chesterton Trojans turned around the next day and took one away from Gary West Side, considered one of the top teams in NWI. High scoring efforts by Chesterton's Christy Poparad (17) and Bridgett Schwoegler (15) were key. Chesterton is just getting used to life without Jackie, and by the end of the season, the Trojans could be the spoiler for some of the favorites in Sectional 3.


No. 6 Martinsville was rolled over by a determined Center Grove team out to prove a point to all doubters. There can be no doubt now with a 19-point win over a ranked opponent that this is a team to be RESPECTED. If CG's outstanding team play continues, watch for them to move up quickly as one of the top teams in the rankings by the first of the new millennium. Next on the Trojans' schedule is 3A No. 3 Franklin on Tuesday (who CG knocked off once already in a season-opening tourney) and Terre Haute North on Saturday.


Can't verify this one other than what's in the papers, but if it's true, someone needs to call the police! Hammond's theft artist Tiffany Humphrey was credited with 17 steals in the Wildcats' 10-point victory over Lake Station Friday. Humphrey is already leading the NWI area in steals to the tune of 7.3 per game, and that was before Friday's 9-1-1!
---
The RRR is teaming with Regional Radio Sports Network (WEFM 95.9 FM) to get the word out about girls basketball and one another in the process. RRSN will be broadcasting their first girls game of the season when Valparaiso visits Chesterton on Friday. You can find the entire RRSN broadcast schedule for both girls and boys basketball this season on our site. RRSN also puts out the free newsprint magazine Northern Indiana High School Sports Report all of you see from time to time at games in the northern part of the state. The recent girls basketball issue sported the photos of a number of northern Indiana standouts including Stacy Byers (West Noble), Kasey Chamberlain (NorthWood), Jenny DeMuth (Highland), Kori Glass (North Judson), Jamie Gutowski (Andrean), Cathy Herring (Morton), Kelly Lane (Rensselaer), Kim McGinley (Morgan Township), Tracie Mezera (River Forest), Jennie Moppert (FW Luers), Mindy Pontius (Jimtown) and Shanna Zolman (Wawasee).
---
This can only qualify as the stuff that basketball dreams are made of. Just about two short basketball seasons ago, former NWI standout Kelly Komara was lighting up the scoreboard at Lake Central High School. On Sunday, she received the chance of a lifetime when she took the floor for Purdue to play against the likes of Lisa Leslie, Dawn Staley, Nikki McCray, Teresa Edwards and Ruthie Bolton-Holifield, just to name a few of the members of U. S. National Team. Even though the Lady Boilermakers were taken to school in the 74-50 rout, Komara held her own with the greats, scoring 11 points in that outing.
---

Coach Muffett McGraw contemplates the action on the floor while Ruth Riley watches beside her. Unfortunately for ND, Riley only was able to play in 18 minutes of a 40-minute game, but came out as the high scorer for ND with 16. (RRR photo)
---
The RRR "staff" attended the Notre Dame-Illinois game on Saturday in Champaign-Urbana, and it was quite a show. ND's Ruth Riley (North Miami) could not be stopped by the Illinois defense, but she was stopped by the officials. After easily scoring 10 points in the first 10 minutes of the game, Riley was whistled for her second foul and sat the bench the remainder of the half. Illinois took advantage and immediately came from behind to take the lead and never look back. When Riley came back into the game at the half, she scored another 6 points, but ended up fouling out of the game and ND's chance at a rally was snuffed out. If Riley could stay in a majority of their games, ND can go a long way. But if she can't, her teammates are going to have to do a much better job of stepping up their own games in order for ND to get any respect without Riley on the floor.

Notre Dame's Ruth Riley battles for position against the Illinois defense. (RRR photo)
---
For Illinois, all of you would have greatly enjoyed the 28-point performance of sophomore Allison Curtin. She is the ultimate blue-collar player, getting most of her points off of garbage rebounds against much bigger post players and on physical steals off of unwitting guards. Interestingly, Coach Theresa Grentz states that Curtin was not a highly-recruited player in high school, but what impressed her was Curtin's basketball heart and smarts, together with incredible quickness. When she signed Curtin, Grentz was razzed by a number of her coaching counterparts for her choice, but she is the one doing the razzing now. You can hear an outstanding post-game audio by Grentz and a few of the Illinois players regarding their game attitude and team philosophy. Some very insightful stuff for high school players who are looking for ways to improve their game with attitude. Coach McGraw's post-game comments, together with comments from Ruth Riley, are also insightful for what ND must do to realize their potential.
---
Congrats are in order again to the Ball State Cardinals, who surprised again with their second tournament championship of the young college season. Freshman Amy Zercher (NorthWood) was named to the College of Charleston Thanksgiving All-Tournament Team after a 14 point, 12 rebound performance in the first tournament round, and a 7 point, 3 rebound performance in the championship game. You can read about the team's first ever 4-0 season start at the Ball State website.
---
Indiana fans will get to see two hometown girls go head to head on national television when No. 1 Connecticut takes on No. 8 Penn State Sunday at noon ET on ESPN. Kennitra Johnson (New Albany), who just scored 17 points in the Huskies win over Old Dominion on Friday, and 1997 Miss Basketball Lisa Shepherd (Richmond), who scored 31 points, including 6 treys, in a recent win over St. Joseph's, will try to help their respective teams gain the winning edge.
---
Highland junior center Lindsay Chappell is featured in The Times Prep Zone today. Chappell was instrumental to the Trojans' win over Gary West Side in the Merrillville Regional last season, although it wasn't her free-throw shooting that helped them win. In that game, Chappell went 2-12 from the charity stripe, although she had come into the game as a 69% free-throw shooter. She worked hard on her game from the stripe this past summer, and as a result is logging in at about 85% (17-20) from the free-throw line through Highland's first four games this season.
---
We hope you caught the 11:00 p.m. delayed broadcast of 2A No. 11 Hanover Central's win over 4A Lowell Wednesday night on Channel 56, because it's the only regular season girls game on that channel you will see this season. To add to this unacceptable programming schedule for the girls is that the only reason the game was put on the air in the first place was because Hanover Central fans came up with a $400 pledge last March during one of the public station's pledge promotions. According to the post-game wrap-up Wednesday, Channel 56 will carry a number of boys games during the season, but as far as we know, no pledges are required for the boys teams to be featured in a broadcast. When are the programming gurus over there going to wake up and realize they are totally missing a hot market in NWI? By the way, Hanover Central sophomore forward Julie Moniak scored a game-high 17 points in that game. (Sorry about the digression... I'll get off my soapbox now.)
---
Statistical leaders for the Region are appearing in The Times today. The top leaders* are as follows:
Scoring Average
(at least 2 games)
2-pt Percentage
(at least 10 attempts)
J. DeMuth (High) - 27.5 (55)
E. Martin (Kout) - 24.0 (48)
T. Humphrey (Ham) - 19.3 (58)
L. Hanson (Port) - 0.833
J. Smith (Gav) - 0.666
M. Pickering (Port) - 0.666
N. Yudt (Port) - 0.666
3-pt Percentage
(at least 4 attempts)
Free Throw Percentage
(at least 8 attempts)
N. Yudt (Port) - 1.000
A. Bernard (CP) - 0.750
M. Pickering (Port) - 0.600
J. Lackey (Morg) - 1.000
S. Hay (Mun) - 1.000
L. Chappell (High) - 0.909
Assists
(at least 2 games)
Steals
(at least 3 games)
A. Webster (CP) - 7.3 (29)
M. Pickering (Port) - 6.5 (13)
E. Sampsel (Val) - 6.5 (13)
T. Humphrey (Ham) - 8.7 (26)
L. Mitchell (Cal) - 4.3 (13)
A. Webster (CP ) - 3.8 (15)
Rebounds
(at least 3 games)
Blocks
(at least 3 games)
L. Mitchell (Cal) - 14.3 (43)
T. Humphrey (Ham) - 13.7 (41)
J. Lackey (Morg) - 11.3 (43)
J. Moniak (HC) - 2.3 (7)
L. Mitchell (Cal) - 1.7 (5)
M. Brumbaugh (HC) - 1.3 (4)
J. Kikkert (KV) - 1.3 (4)
---
According to the Ft. Wayne News-Sentinel, defending 2A state champ Bishop Luers has been awaiting the return of their 6'1 star center, Emily Loomis. Loomis has been overseas visiting her sister in Tonga for the past couple of weeks. The Knights have been hanging on so far without Loomis, winning their first 3 games, including a huge win over rival Homestead by 10 points. The Knights will be happy to see her back this week, however, for their Tuesday game against South Adams.
---
A number of interesting matchups will be taking place around the state today, including North Judson at Chesterton, Andrean at Munster, Crown Point at Warsaw, Homestead at Huntington North, and No. 1 Ben Davis at steadily impressive Brownsburg. In holiday tournament play, Columbus East, featuring All-Star candidate Karen Force, will be hosting Indianapolis Tech, New Palestine and Princeton. Tomorrow, Kokomo is at Lake Central, and the East Chicago at Valparaiso game will be broadcast on WXRD (103.9) FM. Over the weekend, we will be bringing you scores and recaps as they become available on-line. Be sure to let us know the results of your team's game on our Report Scores posting board.
---
In the most recent edition of The Women's Basketball Journal, Purdue's 2000 recruiting class of six nationally-recognized seniors is ranked No. 1 in the nation. (This does not reflect the on-line version of the rankings, which shows Purdue as No. 2. Don't know why...) Anyway, the rankings, which were created by All Star Girls Report (ASGR) analyst Mike White, gives point guard recruits Erika Valek and Cherrise Graham the highest marks in the Purdue haul. White predicts that, "Valek and Grahm should start as freshmen, no doubt in my mind." We would say that Purdue's current starting point guard, Kelly Komara (Lake Central), might have a word or two to say about that. White also mentions Purdue signee Shalicia Hurns (Broad Ripple), stating that she "is another great athlete who is a great fit for Purdue. She may be one of the big sleepers in this class." No other Indiana schools were listed in the ASGR 2000 recruit rankings.
---
Two Midwest college powers, No. 6 Notre Dame and No. 12 Illinois, will be facing off tomorrow afternoon in Champaign, just a hop, skip and a jump for a lot of Indiana basketball fans on the west side of the state. According to the South Bend Tribune, he head coaches of these two teams, tangling up for what is sure to be a battle, have a history together that makes the matchup even more interesting. Notre Dame head coach Muffett McGraw played for Illinois head coach Theresa Grentz at St. Joseph's College in Philadelphia during the 1974-75 and 1975-76 seasons. McGraw is hoping that 6'5 center Ruth Riley (North Miami) will be in playing shape for tomorrow after suffering an ankle sprain that has been hampering her game. You can read about how Notre Dame is preparing for this battle at the Lady Irish website.
---
Purdue's Kelly Komara (Lake Central) is featured on the front page of the Post-Tribune sports section today. Unfortunately, the article is not appearing on-line. Basically put, Komara is taking on a familiar leadership role with the Lady Boilermakers this season, after playing a supporting role last season off the bench. With regard to her role as a leader, Komara says, "Basically, I've been that type of player my whole career. I've always been the point guard, been the one in charge."
---
For all of you Kennitra Johnson (New Albany) fans, you can catch your hometown star on ESPN2 today at 4:00 p.m. ET, when Connecticut takes on Old Dominion in the Coaches vs. Cancer Classic final.
---
The Valpo University ladies, featuring a number of area players including key contributing frosh Jeanette Gray (Valparaiso), are getting some nice local coverage in The Times this season, and their games are previewed for the upcoming week.
---
Happy Thanksgiving!
No News updates today...
(Don't eat too much turkey!)
---
According to the South Bend Tribune, sisters Jackie and Margaret Batteast helped the South Bend Washington Panthers put in some strong numbers in their first two games this season. Jackie is averaging 22.5 points and an amazing 20.5 rebounds per game, while sister Margaret is averaging 11.5 points and 7.0 rebounds per game from the point guard position. The Batteast sisters aren't the only weapons in the SBW arsenel, with seniors Kenisha Gunn and Simone Benion averaging 18 points per game apiece as well. The Panthers recently defeated Duneland Athletic member LaPorte in a close contest by a score of 75-72. Although LaPorte is not traditionally considered a power in the DAC, they might be out to prove everyone wrong with a near win over a respected program like SBW on the Panthers' home court. Leading the way for the Slicers against SBW was senior forward Laura Mumma, who scored 33 points in that outing. South Bend Washington, who moved up to 4A this season, may see LaPorte again in Sectional 3 at Portage in February.
---
Another sister act that is beginning to take shape in the same part of the state is the duo of junior Kasey and sophomore KatieChamberlin of defending 3A state champ NorthWood. Kasey, a starter for the Black Swish last season, teamed with younger sister Katie last night to win their season opener against Memorial 66-33. Katie scored 24 points as high scorer for the game, many off of sister Kasey's assists at point guard.
---
No. 1 Ben Davis will have their season opener tonight against Roncalli at home. The much anticipated debut of the highly touted trio of Shyra Ely, Ashley Allen and Sara Strahm will be closely watched by teams who are on the Giants' schedule this season, as well as by basketball fans around the state. Watch for the Giants to make a strong statement in their first outing against the Roncalli Rebels, No. 9 in 3A.
---
Pat McKee of the Indianapolis Star reports on Ball State's great start to the season, as well as some college updates on former Indiana players:
Indiana State's Shana Sparks (Connersville) is out for the season with an ACL injury, and Vicennes sophomore Denise McDonald (Pike) will attend Murray State next season. Six games into the season, McDonald is averaging 16.2 points and 10.0 rebounds per game.
---
Also, with regard to Ball State, the Cardinals garnered some votes in the AP women's college poll this week, the first time that has happened in the 25-year history of the BSU women's basketball program.
---
It was a rematch of two of the best players from NWI from two of the best programs in the Region when Purdue soph Kelly Komara (Lake Central) and Valparaiso frosh Jeanette Gray (Valparaiso) met last night at Mackey Arena. Just as in high school, Komara's team came out on top with a commanding 63-42 win. Gray was helpful to the Crusaders, however, with 10 points and 5 rebounds in 31 minutes of play. Valparaiso's Jill Campbell (Chesterton) was the leading scorer in the game with 14 points, while 11 players scored for Purdue, however, none in double figures. The Times has a recap of the game, as well as some game notes about Valparaiso, including a few comments about the Komara-Gray meeting. The Times also has an interesting commentary and retrospective by Sean P. Hayden about the Region players that were a part of the game. You can view the official game recap and box scores at the Purdue women's basketball website.
---
Xavier frosh Amy Waugh (Homestead) recently helped her team to its first win of the season against Wisconsin-Green Bay by a score of 62-54. Waugh started for the Musketeers and had 15 points, 5 assists and 5 rebounds, with only 1 turnover, in 38 minutes of play.
---
The Shelbyville News is reporting on a number of former area grads playing college basketball, including Amber Meal (Triton Central) and Delena White (Southwestern).
---
Indiana University Northwest is looking for a few good players for next season. Coaches and/or parents of players who might be a good fit for this team, currently in its first year of competition, should contact either Head Coach Randy Nisen or Assistant Coach Ray Kang by e-mail at rkang79548@aol.com.
---
The ICGSA Poll was released yesterday afternoon, and there was some significant movement in 4A and 2A. Region teams Highland and Valparaiso made the biggest leaps, moving into the No. 5 and 9 spots, respectively, in 4A. Ben Davis still leads the pack at No. 1 even though they have not yet played a single game. Indianapolis Cathedral still stands tall at No. 1 in 3A, and as a side note, Griffith appears for the first time in 3A with some votes after a strong beginning to the season.
In 2A, North Newton picked up two first-place votes, but is still sandwiched between No. 1 Luers and No. 3 North Judson. Hanover Central fell off the Top 10 and into the "Other" column, after two losses to start the season. Popping up into the Top 10 for the first time are Triton Central at No. 7, Lewis Cass at No. 9 and Frankton at No. 10. Also, River Forest continues to receive a few votes, but with a smaller tally than last week.
In 1A, not much has changed except that White River Valley moved up two spots to No. 4, and Lakeview Christian moved up two as well to No. 6 after a strong showing over the weekend. Tri enters the Top 10 for the first time, and Kouts picked up two more votes in the "Other" column.
---
We have updated our RRR Top 12 and Best Upcoming Games & Events for the current week. Also, we are continuing to take votes in our Preseason Sectional Fan Polls, and will do so through the first half of the season. All results will be cleared and a second voting period will begin with the start of the new millenium -- provided all of our computers are still working around that time!
---
Due to the recent NCAA recruiting calendar changes, which reduce the number of summer evaluation days for college coaches from 45 to 24 days (July 8-31), the Women's Basketball Coaches Association has announced that it will be suspending its prestigious non-partisan summer camp program next summer. Citing an awareness that prospective student-athletes may become over-extended in competition and camps during the summer, the WBCA will re-evaluate its camp program. According to WBCA President and Illinois head coach, Theresa Grentz, "The WBCA will assess the needs of its constituency while seeking ways to promote other opportunities for girls in the future." The invitation-only camps, considered one of the top honors for college prospects during the summer, were an outstanding opportunity to be observed by WBCA college members, as well as for athletes to pick up a number of important factors related to recruiting at the intensive mandatory lectures held during those camps.
---
Lots of news from the college front:
Indications are that Ball State's plans to turn around its women's program are taking shape earlier than expected. BSU assistant coach Tracy Roller tells us that the Cardinals made recent history with a victory over Minnesota at the Minnesota Regal Classic on Saturday. The win against the tournament host was the first Big Ten win for the Cardinals in 18 years. BSU is off to a better than expected start, winning the tournament on a last second shot, and is optimistic for the upcoming season. Junior Christy Jones (Muncie Central), who was featured recently in the Muncie Star Press with a return to basketball after a 2-year hiatus, was named the tournament MVP with 33 points and 11 rebounds in two games. Jones was also named the MAC Player of the Week. (Not a bad way to return to the game!) Sophomore Shannon Copeland (Evansville North) was named to the All-Tournament Team, and freshman Amy Zercher (NorthWood) scored 16 points and had 9 rebounds in her first collegiate outing. You can read more about BSU's outstanding performance in the tournament at the BSU website.
---
By the way, BSU head coach Brenda Oldfield will be fielding questions in an on-line chat session this evening at 7:00 p.m. ET at the Ball State University website. Just follow the links to the chat room when you get there.
---
According to Associate Head Coach Curt Miller of Colorado State, freshman Elizabeth English (Rushville) is close to making a decision on whether or not to red-shirt for the season due to an aggravated knee injury. Colorado State lost their season opener to Michigan 69-65. Freshman Jackie Campbell (Chesterton) logged four minutes of play in the loss.
---
Former Lafayette Jeff standout and Indiana All-Star Janette Jacques is now a starter for the Dayton Flyers and recently logged 4 points, 4 rebounds and 1 steal in 20 minutes in the Flyers' near upset of Purdue last week. A self-professed lifetime Purdue fan, the 6'1 Dayton senior had to put her Boilermaker loyalty away for a night while her Flyers put the screws to the defending National Champ guests, who barely escaped on a last-second shot by Katie Douglas (Perry Meridian). Jacques has explored another talent during her college career -- website design -- and is currently authoring a Dayton Flyers web page called "Flyer Beat" to keep her family, friends and fans up-to-date on the more personal aspects of the team. You can read more about Jacques at Boiler Hoops.
---
According to the News-Sun, former DeKalb standout Maria Recker was instrumental to a Michigan State last second win over Alabama in the championship game of the Michigan State University Classic on Saturday. She "came out of nowhere," according to MSU head coach Karen Langeland, picked up the offensive rebound and put up a short jumper with .8 of a second left on the clock to give the Spartans the championship 73-72 over Alabama. Recker scored 10 points and had 3 rebounds in 24 minutes of play.
---

The ICGSA Poll will be out today. Be sure to check back later in the day. We will be posting it as soon as we receive it.
---
According to an RRR regular, Kokomo's Latisha Poulard has signed with Division II University of Missouri at Rolla on a full-ride scholarship. Our regular states that Poulard chose a D2 program over Colgate and Cleveland State because she liked their athletic and academic programs and will probably be right in the mix of things when her collegiate career begins next season.
---
According to the Muncie Star Press, Yorktown's Jama Gilmore signed last week to play with IUPUI next season. The 6'5 center, who is also a volleyball standout, averaged 17.4 points, 9.4 rebounds and 2.5 blocks per game last season, while shooting a strong 63% from the field. Citing a strong academic program and the chance to be close enough to home so her parents could watch her play, Gilmore is glad to get the decision behind her.
---
Terre Haute North's junior guard tandem Megan Boland and Leslie Brentlinger are highlighted in an article in the Terre Haute Tribune Star.
---
Muncie area schools are briefly previewed in the Muncie Star Press, including Central, Burris and South.
---
New Ball State head coach Brenda Oldfield signed her first recruiting class last week, which includes seniors Johna Goff of Mt. Vernon and Jessica Reiter of Penn. She discusses the new class of recruits on the Ball State women's website.
---
After she was considered unlikely to play in the Valparaiso University opener due to an eye injury, freshman Jeanette Gray (Valparaiso) made an appearance after all in the Lady Crusader's season opener against UIC on Friday. In her regular season debut, the freshman led the team in scoring with 11 points and 6 rebounds in 30 minutes of play. Gray will get her first taste of Big Ten college basketball when Valparaiso travels to Lafayette to play the Purdue Boilermakers on Tuesday at 7:30 p.m. ET. The Crusaders are 1-1 after a loss to Detroit yesterday, and the Boilermakers are 2-0 after two come-from-behind wins against Dayton and Vanderbilt to start the regular season. Katie Douglas (Perry Meridian) has been on a scoring tear with 56 points total in the first two games of the season. Region standout Kelly Komara (Lake Central) is averaging 39 minutes per game so far, is scoring in double figures and leads the Lady Boilermakers in steals.
---
We have (finally) posted our 2003 Players to Watch. Since it is early in the season, we may be missing a number of the freshmen who should be on the 2003 list, but we will be updating it throughout the season.
---
The Michigan City Wolves were previewed in the Michigan City News Dispatch yesterday. The young Wolves pulled out the Region-area underdog upset of the year by defeating highly-ranked Portage in Sectional 3 last season, but eventually fell to Hobart in the sectional championship game. Coach Terry Strawbridge will be trying to pick up where they left off last season with a very young squad that is eager to improve. They could be the surprise in the Duneland Conference this season. Helping the cause will be sophomore twin towers Kelley Smith and Johanna Holley. Both over 6'0 and with good physical size, these two are still learning the ropes in the post, but will be the Wolves bread and butter over the next three years.
---
Shelbyville's Bethany Smith is having a red-letter week, having been featured in not one, but two articles on-line, and garnering the Shelbyville News Female Athlete of the Week honor for her 28-point performance against Greensburg last weekend. The Indianapolis Star and the Shelbyville News both give a fine review of the junior, who worked very hard over the summer to improve her offensive game.
---
Cascade sophomore guard Danielle Vieira is making a name for herself in the Indianapolis area. The 5'11 guard scored 20 points in a win over Northwest on Saturday. The Indianapolis Star is featuring her in an article from Thursday's sports news.
---
We mentioned yesterday that Julie Johnson of Homestead had signed with St. Francis (Ft. Wayne). You can read the official press release by St. Francis here.
---
A number of southern Indiana teams are being previewed in the Owensboro Messenger-Inquirer, including Cannelton, Tell City, Heritage Hills, South Spencer, and Tell City (again).
---
According to the Gary Post-Tribune, Valpo University freshman Jeanette Gray will most likely not be playing the the Lady Crusader's regular season opener today at University of Illinois-Chicago. The freshman guard received a nasty poke to the eye last weekend in the first half of an exhibition game against the Reebok Lady Stars and never returned to the floor in that game in the second half. Gray has not been back to practice since, and has experienced some bleeding around the eye. Best wishes from the RRR staff for a quick and full recovery. Also mentioned in the P-T is that UIC freshman guard Kristin Cheairs (Gary West Side) is working hard to get academically eligible so that she may join her teammates for the second half of the season.
---
St. Joe's Karen Morrisroe (Morgan Township) is featured in an article in The Times. The sophomore guard will be playing her first college game this weekend after sitting out a year due to an ACL injury. Morrisroe made it through only the first five minutes of her first official college practice last season before the injury put her college basketball career on hold.
---
Former Muncie Central standout Christy Jones left her basketball career behind after high school graduation, having been burned out her senior year as a dual-sport athlete in basketball and swimming in 1996-97. Wanting to be " just a student" in college, Jones transferred to hometown college Ball State after one year at IU, with no intentions whatsoever of playing basketball. But head coach Brenda Oldfield had different ideas, and after repeated attempts, was finally able to convince Jones to become a Cardinal. The 5'11 Jones is familiarizing herself with the game again, but is doing so well that she will most likely have a starting spot at power forward when Ball State opens against Minnesota on Saturday. You can read more in the Muncie Star Press.
---
Purdue opens their regular season against Dayton on the road tonight. You can read about it in the Indianapolis Star.
---
And by the way, in a 10-year game, the Crown Point School Board and administration had a slam dunk in Indy yesterday, defeating the anti-build protesters by a score of 4-0. (The State Tax Board hearing officers voted unanimously for approval of plans for a new CPHS... yeehah!)
---

News coverage and scores coverage will be much abbreviated today, as I am heading to Indianapolis to convince the State Tax Control Board that Crown Point needs a new high school. Everyone wish me luck!
---
Homestead senior Julie Johnson (5'6 G) signed Tuesday with the University St. Francis (Ft. Wayne). Johnson averaged 12 points and 4 assists per game as a junior and is a Hoosier Basketball Magazine All-State Third Teamer. Yesterday was the last day of the early signing period. The late signing period will be from April 12 to May 15, 2000.
---
The Terre Haute Tribune-Star is featuring a special Basketball Tipoff page on its regular news site. There you will find team previews for Terre Haute South, Terre Haute North, West Vigo, Clay County, Vermillion County and Sullivan County. Also, the MIC is covered, together with a special feature article about Lindsay Secrest of Bloomfield.
---

Highland junior Jenny DeMuth and North Newton senior Kristi Koselke have been named Top Players to Watch in Indiana by USA Today. A total of 18 players from Indiana were named in USA Today's preseason coverage, although not a single Indiana player was ranked in their Preseason Super 25 Players. Also, Ben Davis is ranked at No. 6 in USA Today's Super 25. The only Region team on the Giants' schedule this season is Crown Point, who will face Ben Davis in the Ben Davis Holiday Tournament on December 30.
Jacqueline Batteast, 6-0, Washington (South Bend)
Mary Blessing, 5-8, Decatur Central, (Indianapolis)
Jessica Brock, 5-11, Rising Sun
Jenny DeMuth, 5-10, Highland, Jr.
Shyra Ely, 6-2, Ben Davis (Indianapolis), Jr.
Johna Goff, 5-5, Mount Vernon (Fortville)
Lynne Johnson, 5-10, Corydon
Kristi Koselke, 6-0, North Newton (Morocco)
Andrea Milliser, 5-9, Rochester
Connie Myers, 5-10, Columbia City
Sara Nord, 5-4, Jeffersonville
Jessica Reiter, 6-1, Penn (Mishawaka)
Abby Scharlow, 5-8, New Albany
Cara Smith, 6-1, Harrison (West Lafayette)
Sara Strahm, 5-10, Ben Davis (Indianapolis)
Anna Waugh, 5-8, Franklin
Stacey White, 5-11, Seeger (West Lebanon)
Shanna Zolman, 5-9, Wawasee (Syracuse), So.
---
In the hectic pace of getting used to the rhythm of game coverage again this past week, we just simply forgot to post our RRR Top 12 for the Region and State for Monday. That is now available and (if we don't slip again), it will be posted each Monday throughout the season.
---
Notre Dame's Ruth Riley (North Miami) was recently named to Sports Line/Lindy's All-American Second Team. Riley was taking questions on a live chat session yesterday. You can view the transcript from that session at ESPN.
---
The Evansville Courier Press is featuring an article about Evansville University sophomore Tami Masterson (Plainfield) and how she has taken her game to a new level for the Lady Aces. You can follow the Lady Aces on their website throughout the season.
---
The Times out of Munster has its high school girls basketball special edition in today's newspaper, with its selections of Top 10 NWI teams and its Preseason All-Area Team. Bucking popular choice Highland as the Region favorite, The Times selects veteran squad Munster as the team to beat in NWI. Some would say that the argument will be settled very soon when these two teams meet on Friday. But it IS early in the season and these two teams could look very different when they face a possible matchup in Sectional 1 in February, so don't close the door on either team after this week's outcome. Nonetheless, the Munster Dome will be rocking on Friday when Highland brings in all-area favorite Jenny DeMuth with a great supporting cast of starters, but which also includes four untested freshmen on the roster. Munster's super senior seven will be playing their swan song season in 1999-2000, the memories of which they hope will be ones they will savor for a long, long time to come.
Times Preseason
Top 10
Times 1999-2000 Preseason
All-Area Team

1. Munster
2. Highland
3. Valparaiso
4. Portage
5. North Newton
6. Crown Point
7. Lake Central
8. West Side
9. Andrean
10. Griffith

Melanie Brumbaugh, Sr. 5'11 G, Hanover Central
Jenny DeMuth, Jr. 5'10 G/F, Highland
Stephanie Gill, Sr. 5'10 F, Munster
Jamie Gutowski, So. 5'6 G, Andrean
Susan Hay, Sr. 5'7 G, Munster
Cathy Herring, Sr. 5'8 G, Hammond Morton
Kristi Koselke, Sr. 6'0 G, North Newton
Erica Martin, Jr. 5'8 F, Kouts
Tracie Mezera, Sr. 5'6 G, River Forest
Rina Molina, Sr. 5'11 G, Highland
Erin Sampsel, Sr. 6'0 G, Valparaiso
Kimberly Smith, Jr. 5'10 F, Gary West Side
Alex Webster, So. 5'9 G, Crown Point
Mariel Yekich, Sr. 5'7 G, Lake Central
Natalie Yudt, Sr. 6'1 G, Portage
Sarah Zondor, Jr. 5'7 G, Crown Point
The Times also gives the Region Roundball Review some generous and much appreciated publicity in an accompanying article in its sports section today. If you'd like to know how this whole website was started, this article gives you the gist of it!
---

Valpo's Courtney Rosenbaum, Allison Mosak and Dana Lippelt (L-R) put the defensive pressure on Washington's Emily Stamps and Jennifer Arnold in the Valpo Tip-Off Classic on Saturday.
---
The RRR caught some of the action at the Valpo Tip-Off Tourney over the weekend, where Region teams Valpo and Lake Central made a NWI sweep on the day over visiting Carmel and Washington.
Valpo took on Washington first and, after a slow start which saw them behind by 4 at the half, Valpo broke it open in the third quarter, outscoring the Hatchets 19-5. The post play of juniors Lee Traynham and Courtney Rosenbaum, together with the passing of senior point guard Erin Sampsel, fueled the Valpo comeback and secured the win. For Washington, junior guard Lori Arnold paced the Hatchets in the first half when she scored the bulk of her 15 points for the game, but the hot hand went cold in the second half allowing Valpo to regain the lead. Senior Adair Hudson led Washington in scoring with 16.

GIMME THE BALL! Lake Central's Mariel Yekich (5'8 G) was unstoppable at the Valpo Tip-Off Classic on Saturday, scoring 53 points on the day.
---
In the second game, Lake Central took on the Greyhounds of Carmel, which looked to be trouble for the Indians after they fell behind 24-16 after a furious first quarter of scoring by both teams. Coming to the rescue was LC senior Mariel Yekich, who turned on the afterburners to take over the game for the Indians offense. The 5'8 senior guard went wild, scoring 26 points in the game to pull out a tight finish for the Indians by a score of 58-56. Yekich went on to score another 27 in the second game of the day for LC against Washington, giving her a cool 53 points for the day. Senior Leah Boehme was the leading scorer for Carmel with 16, followed by Brandi Hollingsworth with 11 before she fouled out of the game. Making her varsity debut was promising freshman Kristen Seright, who nearly turned the tables for the Greyhounds with a critical steal and bucket in the closing minutes of the game. She looks to be a future star for Carmel.
---
Other performances of note over the weekend from around the state: Wawasee's Shanna Zolman scored 50 points to break her own school record from last season for scoring in a single game. (You can read her interesting comments regarding the game in the Warsaw Times-Union.) Also, the Class of 2003 is being heard from with high-scoring performances by three freshmen. In nearby Culver Community, 5'2 Stacy Stevens lit it up for 39 points in her varsity debut against South Central to secure a victory for the Cavaliers. At Beech Grove, highly-touted 6'0 freshman guard Katie Gearlds put away 32 points in a win over Indian Creek, and not to be outdone, 5'11 freshman Liz Honegger of Lafayette Jeff matched Gearlds point-for-point in a close win over Anderson.
---
A team preview for the Pike Red Devils is appearing in the Plainfield Flyer. Pike had a good showing over the weekend, going 2-0 against Greenwood and Bloomington South. Key players for the Red Devils this season are high-scoring junior slasher Nina Stone and flashy freshman point guard Miranda Green.
---
If you didn't already catch it, we posted the Indiana Coaches of Girls Sports Association (ICGSA) state poll yesterday afternoon. We are now on the media distribution list and should be able to bring it to you in a timely manner throughout the season. Thanks to Portage coach Reneé Turpa of the ICGSA for helping us attain approval for "real media" status with the Association so that we may bring it to you. You can access the poll anytime from our home page, or from the blue navigation bar to the left.
---
We are continuing to link game stories to scores on our Game Scores & Recaps page as they become available. And don't forget to check out our Best Upcoming Games & Events, with a list of the best games to buy a ticket for in the Region this coming week.
---
For those of you out there who are encroaching age 30 and have maybe wondered what it would be like to play women's college basketball, you need to talk to Kim Ellis of Joliet, Illinois. The 27-year-old part-time college student is on the roster for Purdue Calumet this season as a guard for the Lakers. As The Times reports, Purdue Cal will be rebuilding this season after the departure of Collegiate Athletic Conference Player of the Year, Rita Harper.
---
The first ICGSA Coaches Poll with votes from coaches around the state will be out tomorrow around noon, and because the RRR is now on the ICGSA media distribution list, we will be bringing it to you as soon as we get it. With a few upsets in the first round of action, including No. 5 Mt. Vernon's (3A) 1-point win over No. 2 Connersville (4A) on Thurdsay and No. 9 White River Valley's trouncing of No. 4 Eminence in 1A last night, there could be some adjustments showing up in all the ratings. If you would like to know how the polling process takes place, you can read our original RRR Hardcourt Report about the ICGSA poll.
---
The South Bend Tribune is carrying a number of previews. 4A move-up South Bend Washington, with 2001 Miss Basketball candidate Jackie Batteast, will be looking to improve on last season's finish, when they were soundly ousted by eventual state champ Northwood in the 3A Penn Regional. Batteast was the S. Bend Player of the Year last season and if her supporting cast can get her the ball, they should improve. Jackie's sister, Margaret Batteast, will be taking on the point guard duties this season for the Panthers in her high school debut. Also previewed are Penn, featuring Indiana All-Star candidate Jessica Reiter, and Mishawaka.
---
The McCutcheon Mavericks are previewed in the Lafayette Journal & Courier. With three sophomores and six freshmen making up the bulk of the roster, and only one returning starter, Kory Tull (5'9 F), the Mavs will be hoping to improve as the season progresses.
---
The Columbus Republic has season previews for a number of teams in that area, including Jennings County, Columbus North, and Hauser.
---
A bit of news from the college front. According to Associate Head Coach Curt Miller at Colorado State, Elizabeth English (Rushville) is currently contemplating red-shirt status for the current season. Knee problems seem to be the cause, and she is expected to make a decision soon. As Coach Miller relays, "If she red shirts she has a chance to be freshman of the year next season and probably a four time conference award winner. Right now she is working hard to find playing time with two outstanding senior guards."
---
Don't forget to catch the State Farm Tip-Off Classic women's college opener on ESPN today. North Carolina State take on Rutgers at 12 noon (1:00 p.m. EST) and April McDivitt (Connersville) and her Tennessee Lady Vols take on tough Louisiana Tech at 2:30 p.m. (3:30 p.m. EST).
---
A special thanks to all who posted on the RRR Report Scores board this past week. It was a tremendous success for the first week of games and a great way to get game results without having to wait for the next day's paper. Keep up the posts and we will be the best informed high school basketball fans in the nation! (Don't ya love Indiana high school girls basketball?!?)
---
Jessica Reiter of Penn has put her name on the dotted line to be a Ball State Cardinal next season. As reported in the South Bend Tribune, Reiter says, "Ball State has a great facility and a coach trying to turn them around. It's exciting to be a part of that.'' Reiter's long-time teammate, Angela Knight, is also mentioned in the Tribune article after signing a commitment to Purdue's softball program. Hobart fans might grudgingly remember Knight as the player who put in the buzzer-beater for Penn to give the Kings(wo)men the win at last season's Penn Regional.
---
Another senior who has made it official is Mary Blessing of Central Decatur. As reported in the Evansville Courier Press, the 5'8 guard is expected to bring some depth and excitement to the point guard position for the Evansville Aces next season.
---
The LaPorte Herald-Argus previews the efforts of first-year coach Greg Samuelson to rebuild the LaPorte Lady Slicer program after the exit of an outstanding graduating class there. New Prairie and a few other LaPorte area teams are previewed as well.
---

Wawasee's Shanna Zolman (31.9 ppg) will have to carry the scoring burden for her team again this season. The next highest scoring average on the Warriors' team is 2.0 ppg.
---
The Northern Indiana Conference and Elkhart Memorial are previewed in the South Bend Tribune. NorthWood, last season's 3A State Champ, and Wawasee, featuring sophomore sensation Shanna Zolman, will be two of the most-watched teams in that conference -- NorthWood, to see if they can come close to the caliber of last season's team, and Wawasee, to see if Zolman can take her team further than the first round of sectionals this go-round. NorthWood returns a strong nucleus in returning starters Carol Duncan (6'1 C) and Kasey Chamberlin (5'7 G). Zolman will again have to carry the load for the Warriors with the next highest varsity player average logging in at only 2.0 ppg. Elkhart Memorial will be trying to improve on a 13-10 record from last season and challenge some of the bigger names in the NIC. Memorial opens their season at home against Munster on Saturday.
---
The Lafayette Jeff Bronchos are previewed in the Journal and Courier. A nice addition to that team is 5'11 freshman forward Liz Honegger, who has an excellent shot at a starting position for the Bronchos this season. Central Catholic is previewed in the Journal and Courier as well.
---
Huntington North is previewed in the Herald Press. The Vikings are looking to improve upon last season's 14-11 record and definitely has the horses and experienced players to do that. HN lost up-and-comer Alexa Shields to a move, but gained Adams Central transfer Jamie Grogg, who averaged 11 ppg last season. Good things are expected by Coach Jon Lippe from Grogg, who states in the Press, "She's as good as any pure shooter I've had, and that includes Sarah MacKay and Amy Waugh. If she goes three in a row, I anticipate three more right after that. She understands the game and has fit in here perfectly. She's been a great addition." The Vikings open their season against Ft. Wayne Leo tomorrow.
---
Martinsville Coach Jan Conner gives insight to rebuilding another powerhouse group in the Bloomington Hoosier Times.
---
The Southwestern Spartans and senior center Brisha Stevens are previewed in the Shelbyville News. Also, the Princeton Clarion is previewing the Wood Memorial Lady Trojans and the Gibson Southern Lady Titans.
---
A few Peru-area teams are briefly previewed in the Peru Tribune with outlooks for games this week.
---
The Muncie Press is featuring an editorial about the lack of women basketball coaches in the greater Muncie area. Only three of the 22 Muncie area teams are sporting female coaches.
---
Whether you're a female or male coach, the following is definitely a quote to pass on to your players when you have to play in that David and Goliath game -- and you're David. When the U. S. Olympic team (Goliath) was to play Pat Summit's Lady Vols (David -- well, in context, anyway), no one really expected an upset. But that's just what the Lady Vols did. They beat the best team in the world. The winning shot was made by freshman KaraLawson, who had this to say after the game:
"I've been taught by my dad from day one that whether it's the Olympic team or a 7-year-old kid, you've got to believe that you're the best player on the court. We wanted to believe we were capable of beating this team. If you go out there with a loser's mentality against the U.S. Olympic team, you've already lost."
Wow. Good job, Daddy Lawson.
(You can read the entire article about the Lady Vols victory over the U. S. Olympic team at GoVols.)
---
For Parents
More in the Parent's section
Resources by Grade Level
The For Parents section is organized by grade level, so that parents can easily find resources and information most relevant to their child. Under each grade, you will find a detailed overview of the goals specific to that grade level, tables to help with homework and concepts for each unit, a Student Gallery of classroom projects and activities, Everyday Mathematics Family Letters in English and Spanish, as well as a compilation of Do-Anytime Activities to help supplement classroom activities.
Understanding Everyday Mathematics
This section provides answers to common questions parents have about the Everyday Mathematics curriculum. Here you can learn more about the rationale behind the Everyday Mathematics position on topics such as basic math facts and calculator use, in addition to tips on how to assist your child.
Helpful Links for Parents
The Parents Resources page links to dozens of online resources to help parents help their children. These links include online games, tutorials, simulations, and teaching tips.
Helpful Links for Students
The Student Resources page provides many useful resources for students, including links to interactive games, web-based virtual manipulatives and tutorials, quizzes, forums, and more.
Everyday Mathematics at Home
Everyday Mathematics at Home provides help with Home and Study Link problems, selected answers, vocabulary definitions, tutorials on algorithms, and games.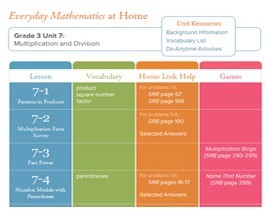 EM4 Edition